In Memory
Ruth Slack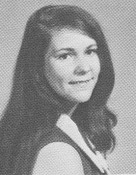 Ruth Ann Slack
b. November 15, 1953
d. August 9, 1970
Ruth died in a plane crash in Peru as a foreign exchange student the summer before our senior year in high school. She was an honors student and always cheerful and friendly.
from the website: http://www.august91970.com:
On August 9, 1970, at 2:46 p.m., a Lockheed Electra crashed and burned, moments after takeoff, in San Jeronimo, Peru. Among those who died were forty-nine American high school students, who were 14 to 18 years old. They had been spending 6 weeks in Peru on an exchange program sponsored by International Fellowship, of Buffalo, New York.