In Memory
Penny Ricchio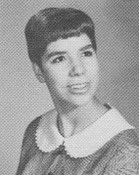 Penny G. Ricchio, age 56, of East Moline, died Saturday, July 10, 2010 at Trinity, Rock Island. Visitation is from 4:00-8:00 p.m. Monday, July 12, 2010 at Esterdahl Mortuary & Crematory, Ltd. 6601-38th Avenue, Moline. Funeral services will be 12:00 p.m. Tuesday, July 13, 2010 at Salem Lutheran Church, Moline. Burial will be Wednesday in Chapel Hill Gardens South/Oak Lawn, IL. Memorials may be made to Salem Lutheran Church, Moline.
Penny was born August 8, 1953 in Blue Island, IL, the daughter of Melvin W. and Harriet (Heintz) Ricchio. Penny was employed as a sales manager for various cemeteries, most recently for Greenview Memorial Gardens, East Moline. She was an avid reader, enjoyed cross stitching and shopping. Penny was very artistic and enjoyed doing crafts and giving these gifts to friends. She was an active member of Salem Lutheran Church, where she was in the Hand Bell Choir.
Penny is survived by many loving first cousins. She was preceded in death by her parents. Online condolences may be expressed to Penny's family by visiting her obituary at www.esterdahl.com.
source: http://www.tributes.com/show/Penny-Ricchio-88899463